For the month of July I have only been working 15 hours a week so you would thought I would have a lot more time to get things done. Not!
The days seem to go by so fast and I'm chasing down a burgeoning toddler so I really need to use my time wisely. I don't however. I'm off today so you would think I would have been able to accomplish a lot. I didn't.
When I wasn't chasing my son down or keeping him from falling off something I essentially scrolled through Instagram. Not a good look.
I watched a video in my leadership class from this movie with Justin Timberlake in the movie In Time. Here is a summary but watch the clip. The visual is crazy. Time is currency and he is trying to meet up with his mom. His mom doesn't have enough time so they are within fingertips of each other but she doesn't make it. She runs out of time.
The facilitator then asked us, what if the mom was your dream?
Shook!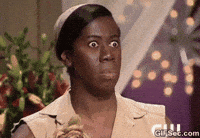 giphy.com
So much time has been wasted on frivolous things, on things that don't matter. When I think about how much writing and research I could get done when I'm just sitting watching the Disney Channel or scrolling through IG, I know I have work to do. I know we all can do better. Or if you already are using your time wisely, tell us how. I think it goes back to be intentional about keeping commitments to yourself.
Having accountability partners. A friend and I had this conversation a while ago about being more productive with free time and I told her how I'm going through all the screenshots on my phone and putting them in folders so I can find them quickly when I need them.
Great idea 💡. When is the last time I did that? We probably had that conversation a month ago or longer. I decided to do it today since I clearly was just sitting here. I didn't like it much though. It was boring and tedious. I have over a 1000 screenshots on my phone. Its going to take me forever to sort through them all.
Is there an app for that?
UPDATE: I did discover that I can tag the pictures and put them in different categories then I can search when I need them later. Super helpful.
Use your time wisely. With us STILL being in at home its easy to just waste time because all the days seem the same. Don't do it! Try anyway to push through. Time feels infinite but its not. We aren't behind. However we could probably be doing more.
Don't just chase your dreams, do the work to catch them.