But the Holy Spirit produces this kind of fruit in our lives: love, joy, peace, patience, kindness, goodness, faithfulness, gentleness, and self-control. There is no law against these things! Galatians 5:22‭-‬23 NLT
The word I am focusing on this week is self control. As we are getting close to holiday season it made sense for me to focus on self control. The biggest area I need to focus on is my mouth, not just what I put into it but what comes out of it. The delicious food is going to be tempting me as well as the conversations that are being had. Being around family can make self control difficult, sometimes being around the people we love can get under our skin and make us eat or say things we would not normally eat or say.
How is your self control? I am not really an impulsive person so I didn't think I had a self control issue. As I am trying to eat healthy and truly make a lifestyle change I noticed my self control needs some work. Portion control for me is a definitely a problem. Now I am going to give myself a little slack on Thanksgiving and Christmas. I will feel better about that slack though if I tighten up my eating habits on a regular basis. I certainly don't follow the national guidelines.
I heap food on my plate and almost always go back for seconds unless its something healthy. I thoroughly enjoy the taste of food and have a hard time telling myself no when it comes to food. They don't call it comfort food for no reason. I spend more money on food then I do on most things. I am not sure why that is. It's like a little crack and once I open up the floodgates I can't stop.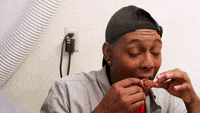 Self control with my mouth isn't much better. Having to always be right is a problem as well as getting the last word. I have gotten better but it is still a problem. Why do I have to be right all the time? I honestly don't know. It is so hard to hear somebody make a blanket statement and not respond to it. Like, all men do (insert whatever stereotype you want) and it makes me so mad. Or hear someone say something I don't agree with in general. Or when someone says something I know is not right. Do I have to correct them? What do I get out of these debates? Nothing. What difference does it make what they think? In the grand scheme of things, none. I am probably not going to change their minds and it's only going to make me upset.
Oddly enough, controlling what comes out of my mouth is easier for me than what goes into it. I am only trying to engage in conversations that help me grow, make me think differently, and change my thought process. I need to have this same thought process about food. Its hard though because food is SO good. If I want to be the best version of myself, I know I need to work on it. My next goal is consistent exercise. We'll work on that in 2021, lol.