I use a lot of DJ Khaled gifs in my writing. I don't know why it just seems appropriate lol
I don't want people to be mistaken and think that I'm bragging on myself. I'm not. I wouldn't have anything, I wouldn't feel this good if it wasn't for God.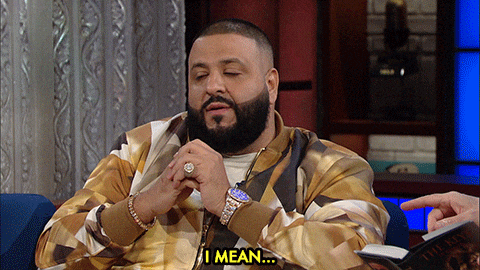 If you have read this blog long enough then you know it wasn't always like this. I had many years when I suffered for the most part in silence. I'm not saying my life is all sunshine and rainbows because it's not. The difference is my perspective changed. My perspective changed because I decided to try God's way instead of my way or the world's way. My way wasn't doing anything for me. I felt even worse because now I added guilt om top of all the other things I felt.
People ask what's the secret. How can they feel like this too? I go to church, I read and study my Bible on my own, I go to Bible study in a group, I cut back on my secular tv shows and music. I do all those things because I need God all the time in all the ways I could get him.
That's not sexy or interesting though. Its not fun or fast. It can be tedious at times.
I didn't always do that. I thought once I had my baby I would be cool, my suffering is over, God answered my prayers. That happy feeling didn't last long.
Once I went back to work my happy bubble burst and I had to figure out how to get it back. That's why I worry so much about maintaining the momentum. I've been on the other side of this feeling and I don't want to go back.
I continue to work on finding a balance on being in the world and my relationship with God. Spending more time with him definitely helps with that. Age has helped with that, the pandemic has helped with that too. I am not telling you it will be easy, or fast, but it will be worth it.