The word I am focusing on this week is Rest. I have not been doing a lot of it and its starting to catch up with me. I'm not usually person that needs to be told to take a break. I love relaxing! Most of my favorite activities involve sitting down, lol.
Lately though, I have been cramming my schedule to the max because it FEELS like we have more time because we are spending it at home. It's true but sometimes more time at home, needs to just be more time at home.
I thought I had Covid a few weeks ago, not because I had been coughing, or had a fever or sore throat but because I was tired. Tieeeeeed.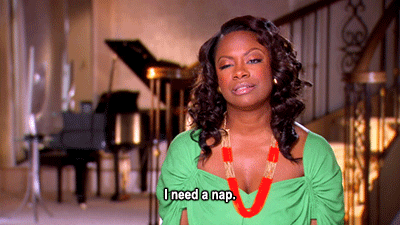 I know that one of the symptoms is fatigue so I'm like oh no, the other stuff is about to start, but it never did. I don't have Covid, I need to rest. Not just physically rest but mentally rest.
I like this list I found online. I schedule a lot of things in my life, I appreciate a good list. However I have never scheduled rest time, I don't have a day scheduled for just me. I schedule days to hang with friends, date nights with my husband, but not for myself. I need to fix that asap. One of my friends reads the blog and started having Self Care Sunday based on what she read here. Her kids even have been doing Self Care Fridays. Clearly I haven't been taking my own advice.
I also need to uncommit to some activities but I don't want to do it.
The reason why I dont want to cut anything that I have been doing is because I hate FOMO (FEAR OF MISSING OUT). I've talked about it here before, I have gotten much better with it, but it still lingers from time to time.
JOMO is a concept I had never heard of but it makes a lot of sense. Its the JOY OF MISSING OUT. Filling content with staying in and disconnecting as a form of self care.
I'm bad as a kid thinking I am going to miss something. I'm letting it go though because I am not giving all the things on my calendar 100%. I'm just rushing from one thing to the next. I need to be a whole person to take care of my son, to be a good wife, to be the best version of myself.
There remains, then, a Sabbath-rest for the people of God; 10 for anyone who enters God's rest also rests from their works,[a] just as God did from his. 11 Let us, therefore, make every effort to enter that rest, so that no one will perish by following their example of disobedience. Hebrews 4:9-11
Take my yoke upon you, and learn from me, for I am gentle and lowly in heart, and you will find rest for your souls. For my yoke is easy, and my burden is light. Matthew 11: 29-30
I should have done it sooner, but better late than never. Its never too late to make yourself a priority.