In less that a year, one of my friends has gotten married, bought a house, got a new job and had a baby. She is definitely having the best year.She is living her best life. All the things that many women are trying to accomplish she had it happen in no time, so it appears. It looks like she has everything. How many people do you know that have everything? I used to believe that you couldn't have everything. Life just cannot be that good. Even Paul one of the greatest biblical figures of all time, had a thorn in his side that he prayed that God would take away, and God didn't.
I wrote before about being happy but not really being able to enjoy it because I was waiting for the other shoe to drop. I feel like that is a pattern in my life that I can be really happy but I don't have everything. I am still wanting for something. I am not wanting like that never satisfied wanting but really truly waiting on God to answer prayer. Although I have never seen God show up like that in my life yet, I now believe you can have 90% of what you want.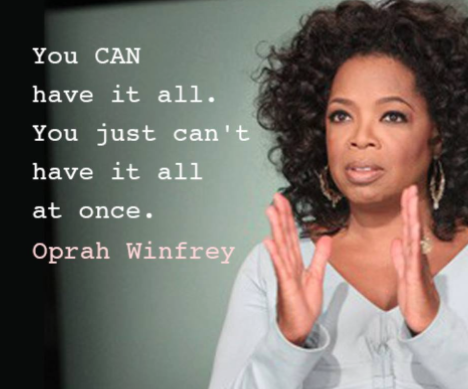 I am not talking about prosperity gospel or any name it and claim stuff. I am just saying that I believe God wants us to be happy on this side of heaven.The bible has lots of scriptures about having an abundant life. The thief comes only to steal and kill and destroy; I have come that they may have life, and have it to the full. John 10:10 
Now to him who is able to do immeasurably more than all we ask or imagine, according to his power that is at work within us. Ephesians 3:20
I say 90% because I think about Serena Williams who people would consider to have it all, nice husband, daughter, tennis champion but she cried because she missed her daughters first steps because she was out practicing. That Oprah quote really resonates with me. I want as much as God has to offer for me and I want to be in a position to give back to others. That is why we are blessed, not for ourselves but to be a blessing to others. So when we have it "all" we can be in a position to help someone else get their "all".